The BLAST ~ October 15, 2019
OCT 16
Two Ballot Initiatives, One Fascinating Night!
Hosted by National Popular Vote - Colorado and League of Women Voters of the Pikes Peak Region Wednesday 6:30 - 8:30PM East Library Community Room 5550 N. Union Blvd. Colorado Springs, CO 80918
Come join the Pikes Peak Region League of Women Voters, State Senator Mike Foote, and Ray Haynes from the National Popular Vote organization to learn more about the campaign to ensure that every person's vote for the presidency is equal. The Colorado Fiscal Institute will also discuss the 2019 Fiscal Ballot Issues including proposed changes to the Tabor Amendment.
In 2018, Mike Foote was elected to represent Senate District 17, which covers eastern Boulder County. He currently serves as Chair of the State, Veterans, and Military Affairs Committee and is a member of the Appropriations Committee, Transportation and Energy Committee, and the Committee on Legal Services. He formerly served six years in the Colorado House of Representatives.
Ray Haynes is a national spokesman for National Popular Vote, and has had a long career handling public policy issues, and as an elected official. He was first elected to the California Legislature in 1992, serving as a state assemblyman from 1992-94 and 2002-06. In between his two tenures in the assembly, Haynes served as a state senator from 1994-2002. Haynes was named the American Legislative Exchange Council's (ALEC) Legislator of the Year in 1996, and was elected by his fellow legislators from across the nation as National Chairman of ALEC in 2000. He left the legislature due to California's term limits law in 2006.
The National Popular Vote would guarantee the Presidency to the candidate who receives the most popular votes across all 50 states and the District of Columbia. The bill ensures that every vote, in every state, will matter in every presidential election.
The National Popular Vote bill has been enacted by 16 jurisdictions possessing 196 electoral votes, and will go into effect when enacted by states possessing a majority of the electoral votes—that is, enough to elect a President (270 of 538). Colorado passed the National Popular Vote bill in the 2019 legislative session, and Governor Polis signed it into law on March 15, 2019. In November, 2020 Colorado voters will be asked to confirm that they are committed to a popular vote for the presidency. Refreshments will be served.
OCT 19
Nov Elections Fountain City Council Candidate Forum
Hosted by Fountain Valley Clean Water Coalition and Colorado Springs Area Labor Council Saturday at 6 PM – 8:30 PM Fountain Library
Our ballots are due Tuesday Nov 5th, depending on where you live you have many of the same things to vote on, and many things are very different. Fountain Valley Clean Water Coalition is partnering with Colorado Springs Area Labor Council to focus on jobs, water, taxes, and sustainable growth for our communities in Southern El Paso County. We are meeting in the large community room of the Fountain Library, doors open at 6 pm so we can chat and enjoy food catered by Fresh Taste Catering, then the forum / debate will begin at 6:30 pm for about 90 minutes. Liz Rosenbaum FVCWC and Ken Schauer CSALC will be the moderators
If you have questions ahead of time please submit them to: fvcwcoalition@gmail.com or ask them during the forum. We will also hear from: Fountain Colorado Streets Committee County Assessor Stephen Schleiker about the Homestead Act And Propositions CC and DD
Brief introductions from other candidates for other seats to include this elections thru Nov 2020 elections. If you'd like to speak with them some more, you can reach out the them personally at a later time. The only candidates we will be discussing growth and development with will be the Fountain City Council Candidates. Ward 2 has an open seat and the At Large has 2 seats open. All are welcome to attend, open and polite discussions will be encouraged.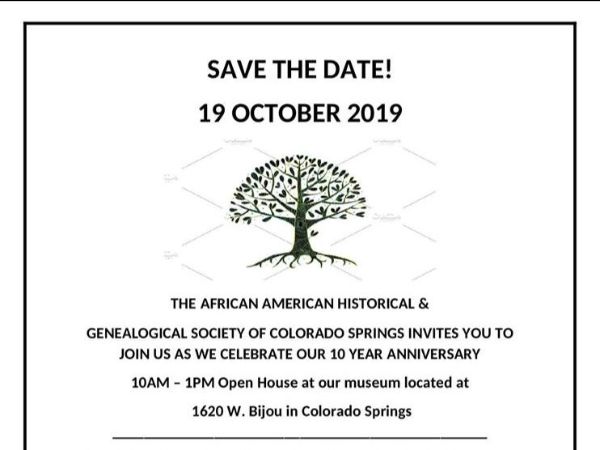 OCT 19
10-Year Anniversary Celebration
Hosted by African-American Historical & Genealogical Society of Colorado Springs Saturday at 10 AM –  1PM and 6 - 8:30 PM African-American Historical & Genealogical Society of Colorado Springs 1620 W Bijou St, Colorado Springs, Colorado 80904
We have two fun events planned for our 10-year anniversary celebration on October 19th! We hope you can make it! Come to the museum for an open house from 10-1 and later stop by the Knights of Columbus building (next to Penrose Library) Tickets for food, wine, and music DJ'd by KKTV's James Brown! 
OCT 19
Peak Environment Podfest
Hosted by Studio 809 and Stargazers Theatre and Event Center Saturday at 12 PM – 4 PM Stargazers Theatre and Event Center 10 S. Parkside Dr, Colorado Springs, Colorado 80910
Be part of the podcast as we record 3 podcasts in front of a live audience at Stargazers. It's free. From noon to 4 we'll have 3 panels on very important local environmental issues:Groundwater Contamination (firefighting foam) Making Local Food Flourish Colorado Springs' Energy Future We'll also have a little music by Lindsay Facknitz. Come see us, grab some lunch, and get your minute of fame. Co-hosted by Studio 809 and Stargazers Theatre & Event Center. Get the Front Range podcast buzz. Check out all the Studio 809 podcasts at http://www.studio809podcasts.com, the Pikes Peak region's podcast hub.
REGISTER HERE
for Saturday at 10:30AM training.
OCT 20
Colorado Springs Monthly Meeting
Hosted by Moms Demand Action - CO Sunday at 3 PM Sand Creek Library  1821 S Academy Blvd Colorado Springs, Colorado 80916
Join local Moms Demand Action Volunteers, awareness and prevention resources from El Paso County Public Health, and others to discuss community care for firearm suicide. Please RSVP
OCT 22
Indigenous People's Day Proclamation read at City Hall
Hosted by Abolish Columbus Day Colorado Springs Tuesday, October 22, at 10 AM – 11:30 AM Colorado Springs City Hall 107 N Nevada Ave # 300, Colorado Springs, CO 80903
City Council will read the IPD proclamation for 2019. Council only meets on October 8th & 22nd this month but they wouldn't approve us for the agenda on the 8th. We understand this is a week after the fact so please attend & come early to sign up to speak. We need to let our council members know this needs to be a permanent resolution & not a yearly proclamation. Debbie Howell will be giving the invocation prior to the start of the council meeting. We would like to give a shot out to Councilwoman Avila for advocating for this again this year, "Honestly, I am tired of this issue being on the back burner. Our Indigenous people need to be recognized and appreciated"
OCT 28
EPC Young Dems Elections & Halloween Party
Hosted by El Paso County Young Democrats - EPCYD and 3 others Monday, October 28, 2019 at 6 PM – 8 PM El Paso County Young Democrats - EPCYD 332 W. Bijou St., #101, Colorado Springs, Colorado 80905
On Monday, October 28, from 6 to 8 PM, we El Paso County Young Democrats will be holding elections to choose new leadership officers (Chair, Vice Chair, Secretary, and 4 Board Members)!
Anyone who is 35 years old or younger and a registered Democrat in El Paso County is eligible to run for any of the officer positions! So if you or someone you know is interested in running for one of these offices, just reach out to us by Monday, October 21 (one week before the election), to let us know you'd like to be on the printed ballot. Anyone whose name does not appear on the printed ballot can still be nominated by someone else at the elections for one of the offices, but you must be present to participate.
The elections will also be our Halloween Party! Soft drinks and light refreshments will be provided. But feel free to bring your own snacks for the group, and feel free to come in costume if you want!