Updated: Jun 27, 2019
2nd Thursday Social Hour!
Hosted by El Paso County Democratic Party Thursday, 5:30 - 7:00 Back room at The Bench 424 S. Nevada, Colorado Springs, Colorado 80903
This week we have 2 speakers! Ryan Macoubrie giving us a Legislative Update and Kent Jarnig will speak about the El Paso County CO Progressive Veterans! Join us to meet and mingle with Democrats and Progressives! Great parking on N side of building and Happy Hours goes till 6.
May 11 Fountain Creek Clean-up  Hosted  by Fountain Creek Water Sentinels and 2 others Saturday at 10 AM – 12 PM 2725 Janitell Rd, Colorado Springs, CO 80906
The Fountain Creek Water Sentinels invite you to join us in a clean-up of our new Adopt-A-Waterway section of Fountain Creek. Join us on our monthly trash pick-up of this ¼ mile segment of the trail. We will provide garbage bags, gloves, and trash picker-uppers. Our section of creek is adjacent to the El Pomar Youth Sports Center along the Pikes Peak Greenway Trail.
Volunteers can park in the northeast corner of the Kohl's parking lot at 2725 Janitell Road in Colorado Springs. Dress for the weather; long pants, sturdy shoes or boots. We will meet for a short safety briefing before the clean-up. Participants under 18 must be accompanied by a parent or guardian. For more information or questions please contact Chuck Donachy at 719-578-5102
MAY 13
CS Dems Club 2nd Monday  
Hosted by Colorado Springs Dems Monday,  5:30 PM – 7:30 PM Johnny's Navajo Hogan 2817 N Nevada Ave, Colorado Springs, Colorado 80907
Join CS Dems Club for 2nd Monday! We meet in the private back room. Featured groups/speakers for May: Westside Cares/Kristy Milligan, Planned Parenthood/Nico Wilkinson, Urban Peak/Courtney Dueser, Spreading Smiles & Sandwiches, Who Gives a Scrap. Learn more about these organizations and bring donations for these groups on May 13.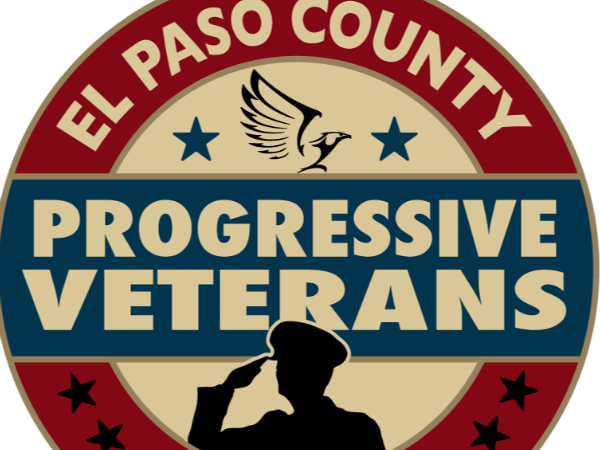 MAY 18
Progressive Veteran's Monthly Meeting
Hosted by El Paso County Colorado Progressive Veterans Saturday, May 18, 2019 at 3:15 PM – 4:30 PM Downtown Penrose Library, Aspen Pine room, 20 N Cascade Ave, Colorado Springs, CO 80903
This meeting Marshall Bosworth, Veteran Service Officer at the El Paso County Veterans Services Community Services Department, will speak about applying for VA Disability benefits - both requirements and benefits you and your spouse can receive.  This office only employs Veterans and is paid for by the State of Colorado - i.e., all services are free. 
Also, Frank Griggs, founder of Veteran's Puppy for Life will speak about his non-profit foundation.  Each puppy is trained to be a service dog and is selected from the time of birth for a specified Veteran.  The Veteran  is chosen through VA treatment facilities.  Please join us to learn  more.
We have a supply of T-Shirts (donated by Burt Evans), emblazoned on the front and back with our logo.  Just $20 each for members and for new members, with a donation of $30, you receive a free T-Shirt.  If you are helping put flags out at Evergreen Cemetery in Colorado Springs for the Memorial Day Remembrance, T-Shirts are suggested, but not required.  The same is true for our participation in Monument's 4th of July Parade.
See you there!  Bring your friends, spouses and significant others.  Veteran children over 16 can also come, and if they are interested, join our group.  Membership dues are always voluntary.
MAY  21
Meet U.S. Senate Candidate Stephany Rose Spaulding
Hosted by Deana Kamm Tuesday, May 21, 2019 at 6 PM – 8 PM 7048 Cobblecreek Dr, Colorado Springs, CO 80922
"Dr. Stephany Rose Spaulding, is running for U.S. Senate in 2020. As a seasoned public speaker, chair of the Women's and Ethnic Studies program at UCCS, founder of For Our Children's Children Enterprises and board member of many local community organizations, Stephany believes that citizens deserve a voice in the governance of their respective communities and hopes to elevate the lives and experiences of our diverse communities throughout the state to create legislation that is inclusive and helps all Coloradans. She will always stand for what she understands to be just and right. As a worker and a servant in the state, Rev. Dr. Stephany Rose Spaulding is highly qualified to carry the concerns of Colorado to Washington, D.C."
Experience and passion for uniting people despite their differences makes Stephany uniquely qualified to represent Colorado in the U.S. Senate for ALL Coloradans. She is excited to transform Congress with those who, like her, believe that the surest way to bring greater equality, justice and opportunity to their communities is to take the lead. Find out more about Stephany here: https://www.stephanyroseforcongress.com/ and please come out to meet her and ask her your questions!WE thrive because of your support! This is Your party, we do good work and we have lots of work to do. Join us with your money or time, all support is needed and appreciated. Bring your passion, energy and ideas and together we will advance the progressive Democratic values in El Paso County! Contributions welcome!
THANK YOU!
Copyright © 2019, El Paso County Democratic Party,  All rights reserved.
 El Paso County Democratic Party 332 W. Bijou Ste # 101, Colorado Springs, CO 80905 719.473.8713 | 
epcdems@gmail.com
Want to change how you receive these emails? You can update your preferences or unsubscribe from this list.